Home › Sign Types > LED Message Centers
Full-Color & Monochrome
Digital LED Electronic Message Centers
& Video Displays

Sunburst Displays™
---
An LED sign is a computer. In Texas that "computer" is left out in rain, ice and cold, heat and humidity, tornados and hurricane-force winds trying to blow it away!
Sunburst Displays are built in Texas, for Texans, by us.™
They are only sold FACTORY-DIRECT to our customers. No middle-man profits.
Click the "Sunburst LED Displays" tab to the left to learn more specifically about Sunburst LED Displays™.
Why Should I Buy from Signs Manufacturing™?
---
Signs Manufacturing™ is an excellent sign company, we make great signs. But just being a good sign company does not necessarily mean that a company can install and service Video Displays and Electronic Message Centers. They may be able to weld, install fluorescent lamps and roll paint, but can they build, program and service a computer?
Digital LED electronic message centers and video displays are very complicated computers, remotely served by other computers, use proprietary software programs, and are not what most sign company employees, or electricians, understand.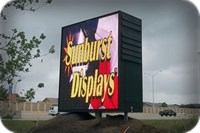 But because these signs are electrical they must be installed by a qualified electrical sign company or an electrical contractor. We are the largest electronic message center manufacturer in North Texas; one of only 3 in the entire State! And we are State licensed as both an electrical sign contractor and as an electrical contractor.
We know what we are doing when it comes to Electronic Message Center and Video Display fabrication and service. We even carry all parts in stock for immediate replacement if something fails.
A large part of our business is repairing mistakes other sign companies and electricians made installing signs they bought and resold to their customers.
"We paid $34,000 for a full-color LED message center from ***** Signs & Lighting. It took them 11 months to get it installed. It is now 4 months old and has never worked in full-color mode. They don't know how to make it work. Can you fix it?"

Jack Miller, Grace Point Church
Electronic Message Centers or Video Displays are usually built into additional signage, not installed by themselves. Doing so makes them less expensive and more effective at the same time!
But most electronic message center manufacturers do not manufacture additional types of signs.
Signs Manufacturing™ makes more than electronic message centers and video displays. We manufacture, install and service church signs, school signs, apartment signs, park signs, governmental signs, architectural signs, etc. Interior signs as well as exterior signs.
We manufacture road signs and building signs including channel letter signs (internally lighted with neon, Solarbrite™ LEDs, the new automatic color-changing SpectraLites™ LEDs, or externally lighted with first-surface LetterLites™ LEDs), neon signs, wall sign cabinets, pole signs, pylon signs, monument signs, message centers, PinLights™ LED signs, architectural signs, plastic lettering, metal lettering, trim-cap lettering, awning signs, plaques and more!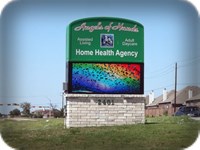 We champion brighter, energy-saving Energy Saving Signs solutions that save our customers money while protecting our environment.
We have lots of experience. Click our "Sign Design" tab to learn how we can help you - for free - design signs that will meet City, State and Landlord sign restrictions, and your needs.
Click the "HERE" to learn more specifically about Sunburst LED Displays™.
The Signs Manufacturing On-Location Sales Team's Personalized Service
---
No matter what types of signs you are interested in, our sales team, consisting of 11 highly-trained individuals, is at your beck and call.
Let us meet with you in your office, or at your new signs location, or home, or anywhere.
You will probably have a firm quotation for what you want during our meeting; certainly no more than a day later.
Visit Our Unique LED Sign Showroom
---
Unique in the entire sign industry, Signs Manufacturing™ built an 85' by 50' (over 4,000 sq ft) indoor sign lighting laboratory for testing the longevity, visibility, and effectiveness of all the lighted signs we manufacture.
We have opened our laboratory to the public, for FREE, adding a Sign Showroom that includes LED Video Displays because we realized how important one would be to consumers.
You must determine which display type, and which LED spacing is best, so that your sign will be successful considering how you will use it. Therefore at least five (5) LED Video Display signs with varied LED spacing are always available for you to compare to monochrome or 4-thousand-shade display signs (also on display.)
Also on display are an economical fixed-message Full-color LED Message Center sign and a fully self-contained, self-powered portable LED Sign trailer, the LED Sled™.
Don't buy a sign from a drawing when you can actually see and compare real signs.
No one else, sign company or not, can offer you this unique opportunity. Be sure to take advantage.
Your business will be better because you do.
If you don't visit it could cost you thousands in sales every year.
Can you afford not to?
"I almost made a huge mistake by not listening to you and visiting your showroom prior to buying my sign. I thought I knew what I wanted, after listening to so many salespeople...boy, was I wrong. My vision of the sign did not jibe with what it would really turn out to be, even after viewing so many drawings. It was obvious the moment I entered the showroom. If I had stuck to my guns my sign would have been a disaster. I would have wasted a lot of money."

Cecil Drake, Drake Communications
Free Factory Tour
---
Come and see the array of equipment and tools, and the facility dedicated to making good signs.
Contact a sales consultant to arrange a plant tour.
Free On-Site Demonstrations
---
Arrange an on-site demonstration today! Demonstrations are available in the Dallas/Fort Worth Metroplex and all of North Texas.
View first-hand the importance of everything we discuss below.
Click the "HERE" to learn more specifically about Sunburst LED Displays™.
The Best Investment You Can Make
---
How much would you invest to double your take-home pay?
The United State Small Business Administration (SBA) says that an LED message center sign in front of a business increases the store's sales volume 15 – 150%. As an example, when a Dairy Queen franchise added an LED sign in front of their 30-year-old business their sales increased $23,000 in less than three months! In fact, they had the largest sales increase of all 36 Dairy Queen restaurants in the region during that period!
This is all profit; expenses are already being paid.
Even with a 50% cost-of-goods this is an increase in take-home pay of 7.5% - 75%. Most businesses do not have this high a cost-of-goods.
Deduct from this amount the $10.25 per day it costs to both purchase and operate a 6' x 12' free-standing full-color LED message center sign that is installed 20' tall, paying off the loan in 6 years. After that, only deduct about $1.00 per day.
It's Black and White; what are your current sales? Do you want the additional income? Are you willing to invest $10.25 per day?
This is probably the safest investment in the world, with the highest potential return, for a business owner to make.
"In my previous 9 years of being in business I have never had 40 customers in a day. Since you put up my Sunburst™ LED Display sign I have so-far averaged 53 customers per day, but my business is still growing again."
Muhammad Faridi, MD, McAllen Medical Center, Dallas, Texas
LED Electronic Message Centers and Video Displays
---
LED Digital Electronic Message Center Signs and Video Displays are also known as LED Signs, Display Signs, Jumbotron Signs, Changeable Signs, Changeable Letter Signs, Scrolling Signs, Marquee Signs, and Readerboard Signs, among others.
Electronic message centers and video displays help your business many ways:
With almost 20% of the US population moving in a year, new potential customers of varying demographics are always viewing your signs. What is effective now may not be effective later…or after lunch.
They attract attention through animation and brightness so they increase awareness of your business location and your products.

Message center signs are prettier than signs with changeable plastic letters, improving the appearance of your business.

Your message is not limited by the size of your reader board, or to only one message.

Your advertising dollars are invested in selling in your trade area, preventing excessive advertising expenses.

Changing your message, any time you wish, is as easy as typing. It can be done often and safely.

Quality electronic message center displays are readable from a further distance, especially is poor lighting.

Full color displays are vastly superior to monochrome displays in impressing potential customers. Fortunately they are no longer vastly more expensive!

You increase your employee's safety vs. conventional letter-changing poles and plastic letters. Walgreen's Drug Stores changed from manual readerboards to Electronic Message Centers partially for employee safety. We were an expert witness in one such tragedy leading to this change.
Turn drive-by traffic into walk-in customers!
Research shows that you have about 3 seconds to attract a passer-by's attention and communicate your message to him. We have exact data on this on our "Letter Visibility Chart" page under "Design and Marketing."
An electronic message center or video display will make your message stand out from the crowd of signs around you. Even displaying the time and temperature can give a viewer valuable information which they will associate with your business. Combining that capability with animated messages, possibly in color, can really drive your sales up, 15% to 150%!
Even the Federal Government has determined that signs containing electronic message centers are safety enhancing devices, not traffic hazards! This is why they are used on federal roadways to communicate with drivers.
Read what the U. S. Small Business Administration (SBA) has to say about the advantages and costs of signs for your business:
Why Do I Need A Sign For My Business SBA.pdf
SBA Features and Benefits of EMCs.pdf
Modern electronic message centers and video displays are illuminated using LED's. This lowers their operating cost by 80+% over older, incandescent systems. If the system is properly designed the bulbs are part of a modular display board that is easily removable and changeable, thus helping to control service costs. The "pitch" or spacing of the LED's greatly affects the appearance of the display, and the cost of the unit.
In almost all instances an electronic message center or video display is built into or attached to additional signs that contains your name and other permanent information. You need to work with a sign manufacturer, not just an electronic message center salesman.
Cost and Pricing Information
---
Interested in the concept of video displays and electronic message centers, but unfamiliar with their cost?
Click on the "Sunburst LED Displays" tab to the left, then the "Cost" tab, and finally the "Pricing" tab to obtain general pricing and cost information on various sizes and types of LED Electronic Message Centers and Video Displays.
When you do so notice how dealing directly with the manufacturer will save you additional thousands of dollars in sales/use taxes!
The detailed construction and installation information below, and to the left, is very important in developing a sign that will accomplish your goals.
Please contact us to develop a plan to meet your particular needs.
Our professional staff will usually have exact quotations, and exact scale drawings of your signs installed on your building or property ready for you the same day we meet with you. (Much faster than the 2 1/2 week average in our industry.)
If you are planning for the future, please bookmark our website as a "Favorite" so you can find us when you are ready.
You May Qualify for a "Better Than FREE™" Sign
---
Dependent on your location, Signs Manufacturing™ may be able to offer you INCOME from a FREE pole, pylon, monument sign, video display, or electronic message center.
Contact us for exciting details!
Message Center and Video Display Brands We Sell and Support
---
Sunburst Displays™ (both Balanced ArrayTM & Classic Series)

Broadway Digital LED Signs

Daktronics

Watchfire (Time-o-Matic)

Jumbotron

Optec (Signtronix)

EDI Electronic Displays, Inc.

Readerboard Signs™

Adaptive Displays

Hi Tech LED

EDS Electronic Display Systems

Adtronics

...we service many more brands (go to our "Installation and Services" tab
Why so many different manufacturers? Especially when we're a manufacturer?
All electronic message centers are made differently, with different characteristics and sizes, and no single display can be used in every installation condition.
And they vary by features. See the many variable features enumerated below.
No one manufacturer's design is the best value for every customer, any way they want to use it.
Not even ours, so we cover the bases!
Click the "Sunburst LED Displays" tab to the left to learn specifically about Sunburst LED Displays™.
The remainder of this page discusses Video Displays and Message Center brands generally.
Changeable Message Signs – A Brief History
---
When LED lighting first replaced incandescent lighting in changeable message signs their color was monochrome, and their array was balanced.
When color LED's were introduced existing computers could not coordinate the virtually unlimited display options a balanced array offered. This resulted in a very "grainy" product. The 3 led colors (RGB) were therefore grouped into "pixel clusters" so that these classic computers could control the display, providing better results.
We've come a long way; computers and processors are thousands of times faster than early models.
The technical ability to place larger individual LED's closer together without electrical co-interference has greatly improved also.
Not bound by pre-existing equipment or designs, and rather than invest in dated technology, Sunburst LED Displays™ utilizes modern computing power to control the virtually limitless potential of our large LED Balanced Array™ Video Displays and Digital Electronic Message Center Signs.
Click the "HERE" to learn more specifically about Sunburst LED Displays™.
Color Selection
---
Historically monochrome message centers were much cheaper than color video displays. This is no longer true.
In making your decision regarding monochrome vs. color realize that colors in motion are proven to be much more attention-getting than moving single-color lights. Also, the number of LED's actually lighted determines how bright a sign is at any particular time. Full-color displays constantly utilize many more LED's.
Monochrome (one color) displays are either Red or Amber (Yellow.)
Full-Color displays are either RGB (Red, Green, Blue) or RGBW (Red, Green, Blue, White.)
The more colors, the more LED lights in each pixel, the larger each pixel, the further back from the sign you must be so that the sign is not "grainy."
Display Capability - Palette
---
Because the intensity of a LED light can be changed by increasing or decreasing the voltage to it, the better monochrome displays feature over 4000 shades of Red or Amber. Some manufacturers call this "grayscale."
The cheaper monochrome displays cannot vary their color intensity at all, they are truly one color. A Sunburst Displays™ sign can turn it's gradients feature "off" and display one-color monotone.
Click the "Sunburst LED Displays" tab to the left to learn more specifically about Sunburst LED Displays™.
Good color displays (RGB) can display over 260,000 color variations; exceptional units 6 million.
We have units available with up to 4,000 shades of monochrome or 281,000,000,000,000 colors.
Light Density (LD) = The Number of LEDs per Square Foot of Sign Face
---
As the discussion gets more and more technical, the easiest comparison between displays is the "LD," the number of LED lights in a square foot of sign face.
As an example, a 6mm Balanced Array™ has a Light Density of 2344 (2344 LD.)
Pixel Size - Clusters (Classic) vs. a Balanced Array™
---
To produce colors at least 3 different color producing LEDs are utilized; Red, Green, and Blue (RGB.) For the human eye, red, green and blue used together create white. Some electronic message center manufacturers try to overcome inferior LED's (which are greatly less expensive) by adding more than one LED of the same color to each pixel cluster. This makes the pixel cluster larger, which makes the pitch larger, which increases the minimum viewing distance (see below.)
Older generation displays group LEDs in clusters. A more modern Sunburst Displays™ utilize a Balanced Array™ for a superior appearance because the LEDs are evenly spaced, and more sophisticated software can create "virtual pixels" in 4 potential locations surrounding every LED, and each LED can potentially be shared by these 4 different pixels.
Click here to go to an thorough explanation of a Balanced Array™.
Pitch and LED Spacing
---
How far pixels are from one another is called "pitch" and is usually expressed in millimeters (mm.)
The pitch must be small for a display not to appear grainy up close.
Older color displays, because each pixel is actually an unequal cluster of 3 or more different colored LED's, cannot have as small a pitch as a monochrome display or the appearance of a more modern display with a Balanced Array™. Therefore they must be viewed from a greater distance to have a quality appearance. There is a lot of blank space between pixels.
Old-style full-color displays are available in 12mm, 16mm, 20mm and larger pitches.
Old-style monochrome displays are available in 9mm, 19mm, 25mm, 35mm, 46mm and larger, some very larger pitches.
The distance between LEDs in Sunburst Displays™ Balanced Array™ can be as small as 6 mm, monochrome or full-color. Pixels can overlap in full-color video displays.
Click the "Sunburst LED Displays" tab to the left to learn more specifically about Sunburst LED Displays™.
Metric to Inch Conversion

6mm

¼ inch

8mm

5/16 inch

10mm

3/8 inch

12mm

½ inch

16mm

5/8 inch

19mm

¾ inch

22mm

7/8 inch

25mm

1 inch
Why are LED Spacing and Pixel Pitch Important?
---
Again, pixel pitch or LED spacing, as well as image quality, determines how close a sign can be and still deliver quality images. They also determine Resolution. (Click here to go to an explanation of Resolution.)
Too large a pitch or spacing for the viewing distance and images are grainy, maybe unreadable. A potential customer's image of your business suffers. When you see grainy LED signs don't you think of them as "cheap?"
It is therefore better to err on the side of a "tight" array. Visit our Sign Showroom to personally compare displays before making this very important decision. Remember, we're local.
A Balanced Array™ can automatically adjust pixel quantity and location to produce as high a resolution as the image will allow for the display size. It's like a modern "High Definition" television. If the image sent to it is "HD" it will be shown "HD" if possible. But remember, garbage in, garbage out ... and size matters! A larger display will support more detail in images.
Why Not Use a Television?
---
TV's do not have as bright a display as is necessary.
Glare on the screen is a big problem.
Only "specialty" TV's even claim to be weatherproof.
All modern flat-screen televisions are LCD televisions. So-called "LED" TV's are actually LCD screens edge or back lighted with LED's.
LCD's will not function with internal temperatures above 122° F. (200° is common outside in an enclosed box in Texas.)

LCD's will not function in extreme cold.

LCD screen do not have an acceptable Viewing Angle (see below.)
Matrix
---
How many pixels wide and high the display is, which determines how many of what size letters can be displayed at one time.
Most matrix dimensions are in multiples of 8 pixels, or virtual pixels in the case of a Balanced Array™.
A larger matrix can display more and larger information at one time.
The Advantages of a Balanced Array
™
---
Creates a visually a more attractive sign with evenly spaced LED's. Higher Resolution.

The software generates 4 LED's per "virtual pixel" which allows larger pixels and beefier letters containing more illuminated LED's for the same height when compared to a standard array.

Superior reproduction of letter fonts and graphics.

Larger LED's are used, creating a brighter sign with increased "fill" (less space between LED's.)

LED's are 50% closer together than pixels are in a standard array, this provides a much tighter display appearance.

There are as many as 50% more LED's in any given area.

Software can shift "pixel" locations to compact the vision even further.
(Click here to go to an explanation of a Balanced Array™.)
Viewing Angles
---
As an automobile driver drives toward an electronic message center which is installed on a 20' tall pole the vertical viewing angle increases from near 0° to almost 90° as the driver passes under the sign. As the viewing angle increases the intensity of the display decreases. The vertical viewing angle of the LED's used in the display plays an important role in the usefulness of the display. (For more information on this see "Glare Shields or Louvers" below.)
As a driver drives toward an electronic message center installed on the side of a road the horizontal viewing angle increases from near 0° to 90° as the driver passes beside the sign. As the viewing angle increases the intensity of the display decreases in this direction also. The horizontal viewing angle of the LED's used in the display also plays an important role in the usefulness of the display.
It is important to understand the vertical and the horizontal angle that the display will be viewed from.
LED lights are directional, and Glare Shields or Louvers can block visibility. High quality LED's can be viewed by as much as 90° horizontally and vertically and still observe over 70% of the lumen potential.
Some LED's lose virtually all of their light at angles over 45°. Less-expensive signs must therefore be viewed nearly straight-on to be legible.
Sunburst Displays™ are effective at radical angles.
Determining Your Minimum Display Size
---
Videos will run on any size sign, with a resolution equal to the pixel matrix of the display.
This is not true for wording, however. Signs that have a larger pixel pitch will not be able to display small letters as clearly as a sign with a smaller pixel pitch (smaller pixel pitch means more dots per square foot).
Decide on how many lines of text vertically you need to display. Decide the maximum height of the letters you want each row to use.
Add at least 2" between rows, and 1.25" top and bottom. If you are going to use both upper and lower case letters allow additional space for the descending letters also. The amount of space varies by letter size and style. Will you want a lighted border around your message?
The cumulative total is how tall the minimum display height of your sign must be, in inches.
But, can the display clearly display your smallest letters? For a standard block letter style the smallest letter a 20mm sign can clearly display is a 6.3" tall lower-case character. A 16mm sign can display 5.1" minimum-height characters.
It is possible to go smaller, but it may require some experimentation with letter styles and spacing. Smaller letters probably require a tighter pitched sign.
If you plan on using some lower-case letters recognize that their shorter height is your shortest letter.
To determine minimum letter height for all sign pitches, multiply the pitch of a display you are considering, in millimeters (say 20), or by the LED spacing in a Balanced Array™ times 2, by 0.315. This tells you the smallest letter the display you are considering can reliably display.
Next, decide on the longest message you need to display. Count both the letters and spaces, and include space both before and after the message. Multiply by 0.3145. Now multiply by the pitch of a display you are considering, in millimeters (say 20), or by the LED spacing in a Balanced Array™ times 2. The answer is how long the sign display must be in inches to display the message adequately in most letter styles. Realize that some letter styles would require an even longer display, but this is a good average. If you plan on running text twice this smallest size, the display will need to be twice as long.
You now know if the size and pitch of the sign you are considering will meet your needs.
But, remember that size matters! A larger display will support more detail in images.
Viewing Distances
---
The minimum viewing distance is the point at which the display loses its graininess. This can vary depending on the message being displayed.
The maximum viewing distance is the point at which the smallest character which will be generated on the display becomes unreadable. A potential solution is to generate larger characters, but this may increase the minimum viewing distance.
Desired Minimum Character Size
---
LETTER HEIGHT

READABLE DISTANCE FOR MAXIMUM impact

MAXIMUM READABLE DISTANCE

3"

30'

100'

4"

40'

150'

6"

60'

200'

8"

80'

350'

9"

90'

400'

10"

100'

450'

12"

120'

525'

15"

150'

630'

18"

180'

750'

24"

240'

1000'

30"

300'

1250'

36"

360'

1500'

42"

420'

1750'

48"

480'

2000'

54"

540'

2250'

60"

600'

2500'

NOTE: The distances will vary approximately 10% with various color combinations. Maximum distance is in color with RED or BLACK on a WHITE background. 5,280' equals one (1) mile.

Prepared by the California Institute of Technology
Reading Time
---
The length of time letters are readable when moving towards them.
These times are only achievable when viewing signs made with LEDs with wide viewing angles, and a tight resolution.
Many signs reading times are much shorter for the same sized letter.
30 MPH

40 MPH

60 MPH

80 MPH

6" LETTERS

1.4 Seconds

1 Second

0.7 Seconds

0.5 Seconds

8" LETTERS

1.8 Seconds

1.4 Seconds

0.9 Seconds

0.7 Seconds

12" LETTERS

3 Seconds

2 Seconds

1.5 Seconds

1 Second

18" LETTERS

4 Seconds

3 Seconds

2 Seconds

1.5 Seconds

24" LETTERS

5.5 Seconds

4 Seconds

2.75 Seconds

2 Seconds

36" LETTERS

8 Seconds

6 Seconds

4 Seconds

3 Seconds

Prepared by Signs Manufacturing™
Control Software
---
More than any other part of the sign the operating software determines the usability of the system.
Most sellers of LED Display signs, whether they manufacture their signs or import them from China, brag about their "Proprietary" software used to operate their signs.
We don't.
Even though our key personnel are very comfortable writing computer programs in several programming languages, we realize that we will never be smarter than the thousands of Microsoft engineers who worked together to create Power-Point.
Because of this, we created a generic based operating system designed to use Power-Point to create your animation and messaging. Or Corel Draw. Or Photo Shop. Or any graphics software you are familiar with.
You already know how to program the sign because there's no new proprietary programming system to learn.
Proprietary is BAD, not good. Our system uses the ingenuity and creativity of thousands of software engineers, not just a small handful of programmers.
To make you even more comfortable, our processor's design doesn't lock-out other operating systems, forcing you to use only ours. Many competitors and virtually all Chinese signs do this. If they go out of business, and you have a problem with their processor or computer, the sign is trash.
If, heaven forbid, we go out of business and our processor fails later, you can replace it with several brands of generic processors and operate your sign. (It won't be as efficient, versatile, and friendly as our system, but it will work.)
(Click here to go to a more in depth explanation of our control software.)
Text, Graphics, or Both
---
Some competitive units only display text, some must display text as a graphic (drawing), some can display both text and graphics. Some competitors can only display "stick" letters (one line.)
Sunburst Displays™ proprietary software can display text and graphics, and we can vary the font (letter style) and the thickness of the letters.
Many varied letter-styles (fonts) are pre-programmed in all our units.
All our units can also automatically place text over graphics pictures.
On our monochrome units (one color) text and graphics can be displayed in 1 or 4,000 shades of the one color. Full-color units display 281,000,000,000,000 separate colors.
(Click here to go to an explanation of a Sunburst Displays™ operating features.)
Animated Text and Graphics
---
All Sunburst Displays™ software can display fixed messages or graphics (drawings) or "scroll" messages or graphics (drawings) and include F/X features. We also show a display such as a cartoon with character movement, for instance.
Monochrome displays convert colors to shades of either Red or Amber (Yellow.)
Various competitive units do this also.
Slideshow Playback
---
All Sunburst Displays™ programming can display pre-programmed messages and pictures in a slideshow format, much like a screensaver slideshow showing multiple messages or images.
Various competitive units can do this also.
Video - Prerecorded Clips
---
All Sunburst Displays™ proprietary software can display videos of varying random lengths.
Various competitive units do this also.
Sound Capable
---
All Sunburst Displays™ are ready to connect to an audio system. Our internal processor is sound capable. Most others are not.
Live Video or TV
---
Live video or television feeds are available options.
This is not available on most competitive units.
Scheduling
---
Schedule various messages, graphics or videos to automatically run at various times of day or night with Sunburst Displays™ software.
Various competitive units can do this also.
Double-Sided Display Programming Options
---
Most competitive units display the same message or animation on both sides of a double-sided display.
However some competitive units can only be programmed totally independent of each other. There displays will not synchronize, so they take twice as long to program.
Sunburst Displays™ standard is a synchronized display, with independent programming also.
Display Size and Appearance
---
Some displays have "retainer", or a picture frame around the display.
Some displays are "bleed", or the matrix goes to the edge of the face.
A bleed face gives more display space in the square footage allowed if a city has a restrictive sign ordinance.
Glare Shields (Louvers)
---
Glare shields, also called louvers, prevent a display's LEDs from appearing to be lighted, by sunlight, making your message unreadable.
Sunburst Displays™ curved glare shields are individually molded into the actual face, not bolted on, to individually shade each LED.
These features guarantee that our shields are effective and positioned properly. They also allow our shields to be as small as possible to eliminate their interference with viewing our displays from below or above.
This is a very common problem with competitive displays with shields that are straight, or continuous. Theirs are less effective and must be much larger, limiting the viewing angles of their signs.
Automatic Brightness Control
---
Sunburst Displays™ and other quality displays automatically adjust their brightness to the current lighting conditions.
A good LED display that is bright enough to draw attention during the day is too bright at night without Automatic Brightness Control. It's like staring into a flashlight; nothing is readable!
Display Brightness
---
LED's are affected by voltage. For instance, an LED will burn nearly 100% brighter if you double the power feeding it. The LED will last about 1/6 as long, however, making this alternative quite expensive in total cost.
LED's dim as they age. At some point (subjective) they will need to be replaced because they are too dim. Feeding them less voltage extends their useful life.
Sunburst Displays' engineering goal was to balance brightness and longevity.
If only brightness is important a monochrome display that does not include a grayscale feature, or automatic brightness adjustment, will be the brightest, at least initially, because all LED's will always be fully-powered. The LED's can also be more closely packed because only one color of LED is used; room does not have to be dedicated to other-colored (RGB) LED's.
Colors in motion, though dimmer than monochrome, have proven to be a better attention-getter, and the displays last longer.
Temperature Sensor
---
A thermometer installs on the sign cabinet and plugs into the sign computer in systems set-up for this feature.
Computer Link Types
---
Optical Fiber. Run underground from the sign to the controlling computer, usually inside the building. This fiber must be run in separate conduit, but it can be buried in the same trench as the electrical supply.
Phone Control. The unit can have a cell phone number and a modem. Simply call the sign from the controlling computer and tells it what to do. The internal memory of the electronic message center repeats these instructions until they are changed.
RF Wireless Modem Communications. An antenna is placed on the sign, and on the building, which is hooked to the controlling computer.
Wi-Fi Modem. Uses a wireless modem connection in the computer, and in the sign cabinet, to communicate.
Group Links
---
It is possible to have one computer control multiple of our electronic message centers (all Long John Silver's are, for example.)
Internal Controls
---
Besides the computer that is used to program the sign there is a processor or a computer inside the sign in most systems.
The poorly engineered signs are programmed and controlled by a single computer that is hard-wired to the sign and must be left "on" at all times. Or, in some cheap signs a second "personal computer" is actually installed inside the sign.
The problem with either of these systems is that the sign is running on "Windows" using a CD or hard-drive and is additionally subject to all the viruses, freezes, lock-ups and reboot problems that a personal computer faces. (As a simple example of the problems faced, who climbs the pole of a free-standing pole sign to reboot the computer after a power outage or computer lock-up? Service call.)
Plus, with all the moving parts in hard drives, disk drives, and other humidity and temperature sensitive components, a PC is a poor way to run a sign from inside the sign. They fail often enough when they are used in the controlled environment of a building.
Tremendous cooling is required when there is an "Intel Inside" but many of these poorly engineered units don't even have cooling fans for the LED displays, much less the computer's processor chip.
In the worst of all signs, the software to program the computer inside the sign is not even in the sign owner's possession. It is not on the programming computer, it is "on the cloud." The sign's computer must have high-speed internet access.
What if the sign manufacturer does not own the software, he uses a third-party system, and they notify you that in order to keep your sign operating you will now have to pay them $2,000 per month to continue access to the programming software. This happens all the time with other "free" software. Or, he controls the software "on the cloud" but goes out of business so your sign cannot be programmed by anyone.
We don't have a "computer" in our signs. The processor in our signs is a "mother-board" with a non-volatile memory (no heat-sensitive processor chip) and its sole purpose is to store and control using the commands you send it from the programming computer we furnish Free with the sign. (No rebooting!)
The programming software is on the computer we give you, and we also give you a back-up copy.
This vastly superior system also uses less energy.
Ventilation
---
Heat is the enemy of LED's. Sunburst Displays™ electronic message centers have multiple inflow and outflow ventilation fans. Additionally, every heat-producing component has its own internal cooling fan. Larger units incorporate air conditioners into their design. Excessive heat can shorten LED life by up to 80%.
Our Classic Series displays have LED panels that are specifically designed to transfer heat out the FACE of the sign, collecting almost no heat on the inside of the cabinet! This unique design allows our signs to operate fan-free. However, we still add fans to our signs as an added level of protection.
In poorly engineered signs with little (passive) or no cooling, decreasing the pitch, increasing the size of pixels, or over-driving LED's with higher-than-required voltage to increase their brightness, increases heat, shortening the life of the unit.
Some units vent out the front of the sign, some out their sides, and some out the rear. This affects how each unit can be installed. For instance, a unit that vents out its sides cannot be covered with brick.
So-called "Modular Designs" and virtually all Chinese manufactured LED signs have NO ventilation! Very bad in Texas.
Servicing
---
Some message centers are serviced by removing their face, some by removing their back, some by removing a frame around the face and sides of the sign. This also affects how each unit can be installed.
The Value of "Listed" Signs
---
Virtually ALL cities, as well as the State of Texas, adopt the National Electric Code as law.
The National Electric Code (NEC) requires that for electrical, structural, and installation safety all electrical signs be "Listed" (tested and labelled with an appropriate Listing Mark.)
Certification (testing and labelling) organizations acceptable in the USA to test to the multitude of Standards signs are required to meet are determined by OSHA.
For you the Listing Mark is insurance. It means that the sign has been tested to insure that it is structurally and electrically safe, and will be installed properly. You benefit from the knowledge that it is not solely us telling you that our signs are safe, this is what the testing laboratories and the US Government says also.
Will your sign be tested and approved for safe use in a Wet (Outdoor) location? Not if it's not Listed!
Underwriters Laboratories ("UL" Listing Mark) and Intertek ("ETL" Listing Mark – originally Edison Testing Laboratory founded by Thomas Edison) are the premier certification organizations and 80% of all things electrical are tested by them.
If the sign you are purchasing does not have a ETL or UL Listing Mark label the sign is probably not legal to install, anywhere in Texas. There are a few local city ordinance exceptions.
Buy carefully.
Intertek is over twice the size of UL, and has a greater global presence. UL is the largest in the USA. We have both companies test and apply Listing Marks to various signs.
Whether it's channel letters, a wall cabinet sign, a monument sign, pole or pylon signs, electronic message centers, neon or other electric signs Intertek and Underwriter's Laboratory pose the toughest design, structural, electrical, and installation standards on the products they approve.
We are the 9th oldest UL Listed Manufacturer in North Texas. (File #UXYT.E149959)
To see if a manufacturer is a UL Listed sign manufacturer go to http://database.ul.com/cgi-bin/XYV/template/LISEXT/1FRAME/ccnsrch.html and enter "UXYT" in the "UL Category Code" box, replacing %ccn%" for lighted signs, or "UYFS" for electronic signs.
To see if a manufacturer is an ETL Listed sign manufacturer go to http://etlwhidirectory.etlsemko.com/WebClients/ITS/DLP/products.nsf/ and enter "UL-48" in the search box.
We are the third oldest ETL Listed sign company in Texas. ( File #4007685) (One of the two older companies makes lighted scoreboards, the other makes lighted office door signs.)
There are many sign companies that pretend to be Listed, but are not!
Incidentally, ISO (International Organization of Standardization) Standards, such as ISO 9001, are NOT electrical Listings (similar to a UL or ETL Listing) that allow a sign to be installed in Texas. That said, components in our electronic signs also meet ISO 9001, ISO 9001, ISO 14001 and RoHS standards.
Underwriter's Laboratory and Intertek do NOT judge the appearance, appeal, or the longevity of a product. This is why our many years of experience serving international, national, regional and local customers, and our investment so that we can apply the knowledge we've gained, will give you a superior product which will impress your customers for years to come.
Listing Testing
---
As a part of UL/ETL product testing, in addition to the evaluations of materials, methods of construction, and how the sign will be installed, the following tests are performed:
24 hour Temperature Rise Test

24 hour Electrical Usage and Stability

Gasket Aging Test

Gasket Adhesion Test

Exclusion of Water Test

Hi-Pot Test while the Sign is Wet

Bond Impedance

Electronics Input Test

Electronics Humidity Test
To become Listed a sign must Pass every test.
The Savings Advantage of a "Listed" Sign
---
Listed Signs Save You Money.
Sunburst Displays Video Displays and Electronic Message Centers, because they are Listed, are approved to operate with approximately 40% of the power supply requirements of unlisted signs.
This is a huge savings in installation costs, as only 1/3 of the comparable electrical service needs to be provided.
And since the National Electrical Code limits the branch circuits serving signs to 20 amps maximum, this equates to many fewer circuits.
For safety, an untested sign (not Listed) must be supplied with enough electricity to meet the total "continuous" needs of each internal components rating. (Each components rating x 125%)
A Listed sign has been tested as a whole, and the amount of energy actually used has been determined. The sign is approved for use when supplied with this amount of electricity, regardless of the ratings of the individual components.
This is always much less than the rating of each internal component taken individually, so the cost of installing electricity to the sign will be significantly less.
Electrical
---
120 volt single phase service is normally required because these Listed displays do not consume a great deal of energy, but some units require 240 volt 1 phase.
Remember, however, that other parts of the sign will have electrical requirements also.
Electromagnetic Interference
---
Radio Frequency (RF) interference from an electronic sign can cause the sign to interfere with radios, cell phones, radar, TV signals, automatic door openers, hospital equipment, etc.
Radio frequency interference can also cause radios, cell phones, radar, automatic door openers, TV signals, hospital equipment, etc. to interfere with an electronic sign.
Although not required in the United States, Sunburst Displays™ had our electronic signs tested for Electromagnetic Compatibility (EMC) and Electromagnetic Interference (EMI), even testing beyond the rigorous European standards.
Our non-intrusive circuitry even protects itself, rebooting the sign automatically if an extreme circumstance interferes with our sign.
This assures you of an even-more-trouble-free sign when you purchase from Sunburst Displays™.
We are told by the testing laboratories that we are the only sign manufacturer to conduct these tests.
Click the "Sunburst LED Displays" tab to the left to learn more specifically about Sunburst LED Displays™.
Energy Consumption
---
This varies by the message displayed, and how long the electronic message center is on.
That said it is uncommon for ANY electronic (LED) message center to use over $1.00 in electricity in a day.
Energy Caveat
---
Some electronic message center manufacturers, more interested in the sale than the needs of the customer, overdrive their LED's to make them brighter (usually because they are using inferior LED's.)
Besides shortening the lifetime of the display to 1/6 of a properly manufactured display it wastes energy.
Sunburst Displays™ does none of this!
We do provide internal overvoltage, low voltage, spike and brownout protection for the sign. Many manufacturers do not.
Software
---
The system should have easy to use control software with built in features such as scrolling and blinking messages and a time and temperature display. It should also allow you to preview both individual messages and your whole display queue without forcing you to show the world your half-finished ads by running them on the display. The message should be able to be changed from inside your business, or the system should be configured so that "headquarters" can change the message at each store.
The programming software should NOT be proprietary. This is not in your best interests.
Proprietary is BAD, The Cloud is BAD, Open Architecture is GOOD.
Click "here" to go to a thorough explanation of this subject.
Software Training
---
Learning how to program an electronic message center is not hard.
Most good manufacturers have teaching CD's in addition to Technical Assistance.
Many have telephone training included as part of their package.
Signs Manufacturing™ is particularly adept at these systems, and helps our customers until they no longer need us.
Then we come back when they find they were premature.
However, Sunburst Displays™ come with a free, preprogrammed computer that uses programs you already know, like Power-Point, Corel Draw to program the computer; so you are already trained!
Click here to go to a thorough explanation of Sunburst Displays™ operating features.
Product and Technical Support
---
Most important in an investment of this size is product support.
The electronic message center manufacturer must be large and dedicated enough that they will continue to support their products with parts.
Technical support must be easily available and there must be no limit to your access to it.
Even after you have become an expert, and years later, you might have difficulty programming a new-look message.
Make certain your electronic message center manufacturer and installer will be there to help you 24 hours a day.
Minimum Computer Requirements
---
Most up-to-date computers, purchased within 2 years, have enough memory to create control programs.
It is usually NOT necessary to buy a separate/additional computer to control an electronic message center.
FREE Programming Computer with Sunburst Displays™
---
Each Sunburst Displays™ electronic message center comes with a "free" pre-programmed laptop computer ready to
remotely program your new electronic message center.
Tutorials are a part of the computer's pre-programming.
Displays can also be programmed using Power-Point, Corel, Photoshop, or any graphics software you are familiar with. So you already know how to program the sign!
The programming computer communicates via Wi-Fi, so you probably already know how to work it, and it only needs to be "on" when you are changing the program. The sign runs on its own internal processor.
You can create a program at home, and download it to your sign when you get to your business, if you desire.
Proprietary encryption in both the sign and the programming computer software make the sign impossible to use by anyone else.
SolarGuard™ Protection for Sunburst Displays™
---
Our plastic faces that hold the LEDs, and Glare Shields, have internal UV protection. But your sign needs to look nearly as good 10 to 15 years from now as it looks the day it is installed.
The longevity and appearance of plastic face materials are extended when they are coated with SolarGuard™, a special, clear, high-gloss, mar-resistant topcoat which protects plastics from ultraviolet light and ozone so that they last longer, just
like your eyeglasses have UV coatings to protect the plastic lens.
Signs Manufacturing™ is an authorized SolarGuard™ applicator.
Signs Manufacturing™ adds SolarGuard™ protection to every plastic sign face component.
Does SolarGuard™ Protection Work? The face on the right was made of "generic" red acrylic and black trim-cap. The left half was coated with SolarGuard™ and the face was left outside for ONLY 7 years; your sign will be out there much longer!
(This product does not come from the traditional sign industry. Few sign manufacturers know about it, or where to get it.)
EMC faces that were NOT protected with SolarGuard™ (Click on each picture to Enlarge.)
Self-Cleaning Faces for Sunburst Displays™
---
Signs Manufacturing™ adds Lumabrite™ coatings to every plastic-faced sign we manufacture.
Lumabrite™ reduces maintenance because of built-in self-cleaning properties.
This products inspiration was the optical plastic lens industry.
Our people are factory-trained in the application of Lumabrite™.
Controlling Message Center and Video Display Cost
---
Electronic Message Centers and Video Displays cost a lot of money, but they achieve tremendous results.
To keep from spending more money than necessary, consider the design of your sign and the results you want to achieve.
Rather than purchase a larger, blank, rectangular message center and display your name and all other information on it, consider incorporating signage that constantly displays the messages you want to constantly display. It will cost less, and look better!
Because we manufacture and install all types of signage, not just electronic message centers, we can design, build, and install the most cost efficient and effective signage for you (see our "Design Center" page!)
"Click" Below for Additional Information on Installing an Electronic Message Center in:
Select the tab "Electronic Message Center Check List". This is a tool for your use to insure that quotations you receive are for the same sign! Insist that your bidders fill-in each line, then sign the document when they give you their quote.
If you know all the details of the sign you wish to purchase, and desire to buy it right now, click the following link to go to our online LED Electronic Message Center Purchase Page.
Quality Certified Signs™ Trained Technicians
---
All Signs Manufacturing™ shop, installation and service personnel are QualityCertifiedSigns™ trained technicians.
Go to www.QualityCertifiedSigns.org for listing details.
State Licensed Sign Installation and Sign Service
---
We are a full-service sign company. We provide sign site surveys, sign permits, sign installation and sign maintenance services for electrical and non-electrical signs for our customers as well as other sign companies. We provide this work in Dallas, Fort Worth (DFW), and ALL of North Texas and Northeast Texas.
State Sign and Electrical License Numbers: TECL17503, TSCL18015, TSCL18016.
Our technicians are also Quality Certified Signs™ certified. (Click the "Installation & Service" tab for details.)
We serve and have installed signs in the Texas cities of Addison, Aledo, Allen, Alvarado, Anna, Argyle, Arlington, Athens, Aubrey, Avalon, Azle, Balch Springs, Bedford, Benbrook, Blue Mound, Bonham, Briar, Bridgeport, Buckingham, Burleson, Caddo Mills, Canton, Carrollton, Cedar Hill, Celina, Cleburne, Cockrell Hill, Colleyville, The Colony, Combine, Coppell, Corsicana, Crandall, Crowley, Dallas, Dalworthington Gardens, Decatur, Denison, Denton, Desoto, D/FW Airport, Dido, Duncanville, Eagle Mountain Lake, Edgecliff, Ennis, Euless, Everman, Farmers Branch, Farmersville, Ferris, Flower Mound, Forest Hill, Forney, Fort Worth, Frisco, Gainesville, Garland, Glenn Heights, Granbury, Grand Prairie, Grapevine, Greenville, Gun Barrel City, Haltom City, Haslet, Highland Park, Hillsboro, Hudson Oaks, Hurst, Hutchins, Irving, Italy, Itasca, Jacksboro, Joshua, Justin, Kaufman, Keene, Keller, Kennedale, Kleberg, Krum, Lake Dallas, Lake Worth, Lakeside, Lancaster, Las Colinas, Lawson, Lewisville, Little Elm, Longview, Mansfield, Marshall, Maypearl, McKinney, Melissa, Mesquite, Midlothian, Milford, Mineral Wells, Mount Pleasant, Mount Vernon, Murphy, Nevada, Newark, North Richland Hills, Ovilla, Palmer, Pantego, Paris, Parker County, Pelican Bay, Pittsburg, Plano, Ponder, Princeton, Prosper, Quinlan, Quitman, Red Oak, Rendon, Richardson, Richland Hills, Rice, River Oaks, Roanoke, Rockwall, Rowlett, Royse City, Sachse, Saginaw, Sansom Park, Sanger, Seagoville, Sherman, Silver Creek, Southlake, Springtown, Stephenville, Sulphur Springs, Sunnyvale, Terrell, Texarkana, Trophy Club, Tyler, University Park, Van Alstyne, Valley View, Watauga, Waxahachie, Weatherford, Wedgewood, Westlake, Weston, Westover Hills, Wheatland, White Settlement, Whitney, Wichita Falls, Willow Park, Wills Point, Wilmer, and Wylie.
ZIP Codes 75001 thru 76958.
Area Codes 214, 254, 430, 469, 682, 817, 903, 940, and 972.
Serving Collin, Cook, Dallas, Denton, Ellis, Fannin, Franklin, Grayson, Henderson, Hill, Hood, Hopkins, Hunt, Johnson, Kaufman, Lamar, Navarro, Parker, Rockwall, Somervell, Tarrant, Titus, Van Zandt, Wood, and Wise Counties in Texas.
We also have signs in 43 different states, and 6 other nations.
LED Message Center and Video Display Rentals
---
Signs Manufacturing™ rents Sunburst Displays™ LED full-color digital animated electronic video display message centers.
Contact us for details.
BIG Business Booster
---
There is no question that LED electronic message centers and video displays are the business signage communication wave of the future. Local advertising has never been cheaper because of them.
Every business has a need to promote special events, sales, sponsorships, etc.; either at their business location and/or at local sports events, parades, church and school events.
If your business is not located where you can have a permanent messaging sign, or you need to advertise at multiple locations (like the kid's soccer game), the question is, HOW?
This question has been answered with "The LED Sled™" pictured above, Signs Manufacturing Corporation's new portable self-powered LED electronic message center and video display.
Local businesses have never before been able to be so creative, to think so far outside the box to gain a competitive advertising advantage.
"To rent, or to own, THAT is the question." (sorry Shakespeare.) How often do you need to promote your business?
If you are a multi-location business you need to own one of these! Some location ALWAYS has special needs or opportunities. Or a new store under construction.
If you're not in the Dallas/Fort Worth Metroplex you absolutely need to own one because you are too far away for us to rent you one!
Click on the "Rentals" or "Portable Sign Sales" tabs on the left for details.
New low cost message centers from China.
"Click" on the picture to enjoy.
Literature
---
LED Signs

Full-Color or Monochrome

Lighted 3D Channel Letter Signs

Wall Cabinet Signs

Pole Signs and/or

Pylon Signs

Monument (Ground) Signs

36 Page Brochure
28 Page Brochure
32 Page Brochure
32 Page Brochure
32 Page Brochure
Click to Request Literature